2019 Summer Camps
This will be our seventh year of summer camps at Heartfelt. Year round, we offer an ever-changing menu of seasonal crafts for all ages (our drop in crafts will continue to be offered throughout the summer and beyond). Our summer camps allow us time for more in-depth projects, and are beloved by campers and teachers alike.
New this year, each craft week will have a theme and children of all ages (from those entering kindergarten to teens) may sign up for any of our camp weeks. During each camp, we will divide children into groups by age so that content will be appropriate. The camp day will be shorter for younger children. Hurray for Camp!
Fairy Crafts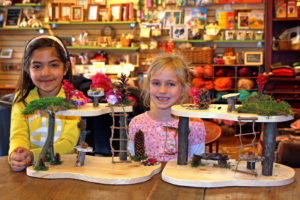 Fairies are intriguing creatures and we love to create miniature places for them to live. Our projects will include a building, a treehouse and furniture, a fairy family, miniature clay dishes, food, wall art, even tiny letters! If your child has already built a tree house, please let us know at time of registration; several alternatives will be available e.g. a fairy village or woodland landscape. This is NOT a camp just for girls; boys love to build and create miniature worlds too!
Tuesday June 18th – Thursday June 20th
Tuesday August 20 – Thursday August 22nd
Craft-O-Rama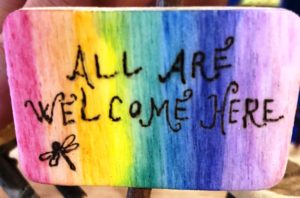 It's said that variety is the spice of life; our expert staff of crafters will eagerly introduce children to new handwork skills and projects. We will experience and explore a number of different art and crafting techniques; felting, modeling, painting, decoupage, wood-craft, and more. For the child who loves art, crafts, and variety!
Tuesday July 23rd – Thursday July 25th
Critter Crafts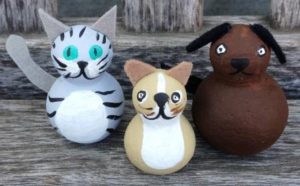 Children love animals and making their own creatures for imaginative play is so rewarding. Our animals will be made of many materials: felted sweaters, pompoms, beeswax, wood, and more. Reference books will be on hand so we can learn more about the real versions of our crafted animals. Children can help choose the content of our projects by sharing information about their favorite creatures.
Tuesday June 25th – Thursday June 27th 
Wild and Woolly Crafts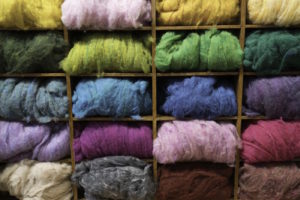 Wool felt is the most ancient of the textiles and its beauty stands the test of time. Experience the magic of felting with sheep's wool and working with wool felt. Our projects may include needle felted self-portraits, wet felted flat felt, geodes, bags, and sewn sweater crafts. We will share the history of wool and discuss the many types of sheep from around the world too.
Tuesday July 30th – Thursday August 1st
Sea Creature Crafts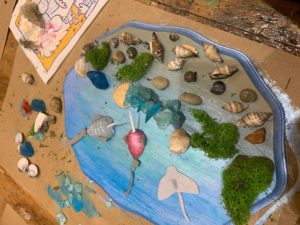 Undersea animals are amazingly varied and fascinating. We will study and make models of many watery species; narwhals, manta rays, sharks, fish, jelly fish, and more. Our projects may include a deep sea diorama, octopus mobile, and a sea-scape as we explore and learn about the mysterious creatures of the deep sea. As always, the interests of the children will help guide our choice of crafts.
Tuesday August 13th – Thursday August 15th
Crafts from the Past
The crafts of this camp will be infused with history. Learn about Medieval knights (think swords, shields, sword belt, and scabbard). Or the North American pioneers, who had to make almost everything they needed (beeswax candles, fabric weaving, corn husk dolls). We will share stories of each era, then make our projects, bringing historical context and meaning to our crafting.
Tuesday August 6th – Thursday August 8th
We look forward to seeing you at one of our upcoming summer craft camps.