There is snow on the ground so I can no longer pretend that winter isn't coming. I'm not in complete denial–I did put the snow tires on my electric Mini Cooper last week, which is virtually undriveable in snow without them. But the extended mild temperatures have been so nice.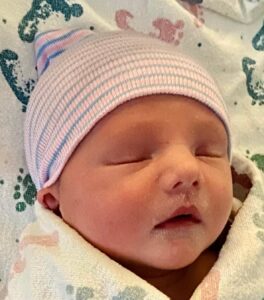 Exciting news for our family–my husband's son and his wife have a new baby! He arrived November 16th and his big brother (age 2+) is very happy. The thing is, they all live in San Diego, where son Geoff works for the Coast Guard. Thankfully, we visited them in October 2019 to see their first boy when he was three months old, just before Covid 19 became a household word. In the face of the losses other families have suffered, our situation is sad but not catastrophic. Still, I try not to think about it very much and we enjoy FaceTime with our Cali crew as often as we can. And we send wooden toys at appropriate intervals!
The past week has been exciting–I was one of several guests on MPR discussing handmade gifts last Monday. Folks called in to share their experiences with gift making. The time flew by but I was able to share thoughts about the importance of working with our hands and some ideas for simple gifts to make at home. And wow do people listen to MPR–most customers this week had heard the show! Here is a link in case you missed it:
MPR Homemade and Heartfelt gifts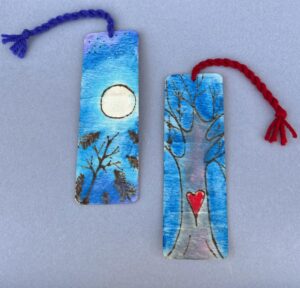 It's party season! We were so happy to have three adult parties at the shop this past week. A baby shower (made wood burned building blocks), a Hanukkah party for colleagues (snow-scapes and painting with wool), and a Needle Felting 101 class. Remember, crafts are not just for kids! Call to make a reservation to create solo or with friends and family. Arguably, we grown-ups need the healing of handwork at least as much or more than our children. Check out our Crafts for Adults for ideas and inspiration.
Last year, we offered a virtual Winter Craft Camp between Christmas and New Years. This year, we are once again offering a Winter Craft Camp, in person this time! See below for details.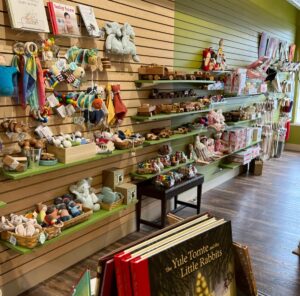 New customers are finding us and it's great to see our regulars too–we love and need you all! Folks are enjoying shopping our expanded toy selection for Christmas gifts; my plan is to continue adding products over time as I can, rounding out our selection with things like puzzles, doll houses and furniture, doll clothes (if I can find them in natural fibers), building toys, items for kitchen play, and more. Do let us know if you have ideas about toys you would like us to carry. And please remember us after the holidays as a destination for birthday presents; our gift wrapping service is always free.