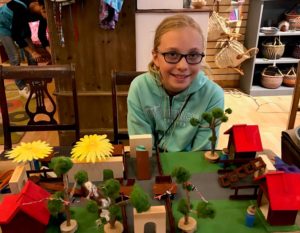 As the calendar pages turn, I look back over the past year and think about all that has happened in the past 12 months. This Covid time seems both long and short, if that makes any sense. 
January is traditionally one of our quietest months and this year it was even more so, less than half of January 2020, which is not surprising. Heartfelt is still hanging in there but the money in the bank from grants and the disaster loan is gradually getting whittled down. My plan remains the same: to hang on until the pandemic recedes and to avoid getting COVID if at all possible. I've just now applied for a new grant so will see what becomes of that.
Winter cold finally came for real this week so of course, my thoughts have turned to the summer! With many children heading back to school buildings, it becomes more possible to imagine that the winter will end.
This will be our ninth year of summer craft camps at Heartfelt. Last year, the planned in-person camps changed to virtual, with Zoom gatherings and step-by-step photo instructions to guide our projects. The children enjoyed camp anyway and I got to see their smiling faces and assist them in their creations. For summer 2021, I am planning virtual camps again. If we can have in person camps safely, we certainly will. Either way, our summer craft camps are happening! See details below or click on this link 2021 Summer Camps
And we have lots of projects to help pass the time during this bitter cold. Browse our Winter Crafts Menu for full details. Shop in-store or place an order for curbside pick-up. And as always, our gift wrap is free! Call us to discuss your needs–we are always happy to help!