There have been several different summer times in my life. As a young kid, I was lucky to have two trips every summer, each about a three-hour drive from home. In July, we stayed at Grammy and Poppy's cottage on Lake Huron (oh, those sugar sand beaches!). Dad would drive us there on a weekend; each Sunday, he would head back to Toronto to work, returning to Camlachie each weekend. He called Poppy sir and would repair the wooden steps that went down to the lake, and anything else that needed a skilled handyman. My mother stayed at the cottage the whole time; Grammy would hire a teen girl to watch us five kids and assorted cousins so my mum could rest.
 We kids spent our days swimming, making sandcastles, playing baseball and cards, and playing pretend in the small guest house (known as The Hut. Uncle Dunny (short for Dunbar) would sleep there on his occasional visits. One year, we frequently visited a litter of puppies at the Blackmore's Farm. We came up with our own names for the puppies: Handsome, Clover, Pedro, who was the runt of the litter. We asked Mum and Dad if we could take Pedro home to Toronto with us; we were briefly hopeful about this excellent idea, but the answer was no.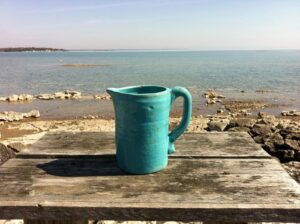 When my grandparents became infirm, the cottage was sold, marking the end of an era. I remember a last brief visit there; we were told we could pick a few things. I chose a straw pith helmet and a small blue pottery pitcher Grammy had kept on a windowsill in the kitchen. The hat is long gone, except for in photos; as an adult I gave the pitcher to my sister for her cottage on Lake Huron.
Our other annual summer trip was to the Thousand Islands, near Gananoque on the St Lawrence River, where my father grew up. We camped on my aunt's property on Tremont Island. My dad and the red sailboat he built were well known in the area. We slept in a big family tent; snug in my sleeping bag, I knew it was morning when I heard the splash of Dad diving into the water for his morning wash and swim.
We drank Tang instead of orange juice, ate toast from an open fire, and had lots of hot chocolate on cool mornings. We swam, sailed, rowed a skiff to catch tour boat waves, ate  pike fried over a fire, walked around the whole island, rode the swing hanging from a huge tree near our tent, read books, magazines, and comics. Once a summer, the older kids would jump off Uncle Benny's boathouse into the water. I never did.
In later years, my parents rented a cool old cottage on Hay Island. It was even more beautiful there, with a wonderful water view up a channel, and the prevailing wind blew straight through, which helped with bugs. That era ended when my parents sold their house in a suburb of Toronto and moved to Gananoque permanently for their retirement.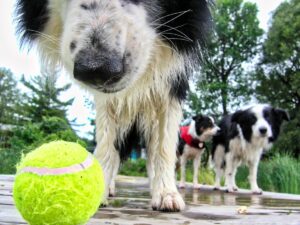 A new summer time began when my husband, daughter, and I, and our dogs visited my mother at her riverfront home, making the long drive from Minnesota. This became my daughter's happy summer place, swimming, making crafts, and playing with the children next door. Our dogs adored it too, chasing countless tennis balls into the water over and over and over…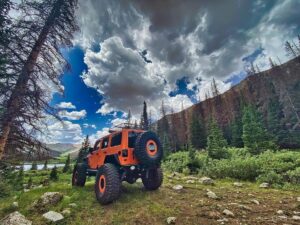 In 2010 we began a new summer ritual, road trips to Colorado in our Jeep to drive the old mining trails up the mountains. Incredible beauty! We returned there annually for a decade, staying various places in rental homes; our favorite town is Buena Vista. I collected nature fixings and fallen Aspen saplings for crafts at the shop and my husband Greg took glorious photos.
Although I missed the water, the big sky and the mountains more than made up for it. My first summer there, I do remember asking if swimming was available at Wheeler Lake, not understanding the realities of air and water temperative at 12,000 feet!
We took trips to Grand Marais too, where Greg began his study and practice of astrophotography, spurred on by relatively low level of light pollution along the north shore of Lake Superior.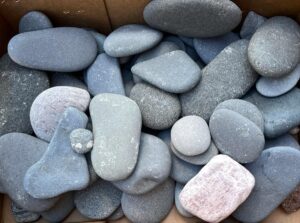 This year we are sticking close to home, with a trip to Grand Marais in August, where Greg will attend a night photo class while the dogs and I gather lake stones galore. And in July, my best friend is visiting from Toronto, for a city stay-cation.
Summers are short and we have a finite number of them in our lives. Thanks to my childhood summers, I have a lifelong love and yearning for being on the water–it brings me peace and happiness like nothing else. May you find the same this summer!