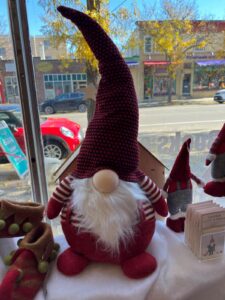 With Halloween behind us, we are looking ahead to the Holiday Season. My staff and I have been working hard and having fun making new crafts to share with you. And the shop is all decked out with silly gnomes and felt ornaments. The sweet coziness of the shop is especially welcome these days, as a counterpoint to the seemingly endless bad news, here and around the world.

Our in-store crafts this season celebrate winter and reindeer! Make a menorah for Hanukkah, a lantern for solstice, and ornaments for your tree or to give as gifts. Please call ahead if you can before coming in to craft with us, especially on weekends and as we get closer to Christmas. click on the links below for full details.
On a personal note, back in mid August, I knelt down to pat a dog and almost immediately regretted it. Not because of the pup but because of pain in my right knee. It didn't seem too bad at first but as a couple of weeks went by, it got steadily worse.

I won't bore you with too many details but it turns out that I have a meniscus root tear. So, surgery for me with a super duper doc, hopefully right before Christmas. Post surgery, I will have six to eight weeks of non-weight bearing recovery. So you will see a lot less of me in January and February. My wonderful staff will step up and care for Heartfelt and our customer friends while I am at home.
P.S. Would you take a few minutes to write a Google Review for the shop? I'm trying to get us more online visibility and Google reviews help a lot.
Click on the link–thanks so much!  Write a Google Review