Tomorrow is the day. Knee surgery day. So much anticipation, so much preparation, both at home and at the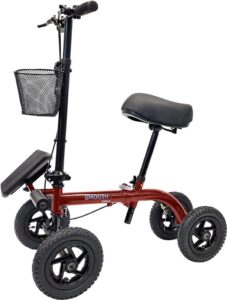 shop. My doctor is absolutely the best, internationally known for his work, especially for meniscus root tear repairs, the surgery I'm having. He is also very kind–I can see it in his eyes behind his mask. I've watched his video of the procedure several times so I know what to expect. I asked him if he would be using that technique for me–he said "well yeah, we kind of invented it, so yes", sharing the credit with his team.

Some of you know that I am a cancer "survivor" (I prefer the term "cancer girl"), diagnosed and treated for breast and ovarian cancers in 2009. It was very difficult, with some lingering feelings of trauma. So I am feeling quite vulnerable, but also can feel myself tapping into a desire to be physically strong again, to walk and work my body. The recovery is long and won't be easy, starting with six to eight weeks of non weight bearing, with lots of physical therapy, beginning the day after surgery. I will need to tap into my warrior energy, to push myself to feel better. The scooter pictured here will be part of that. Wish me luck!

I have been thinking about how one finds their life's work. Clearly my surgeon has, his skilled nimble fingers tying sutures with ease. He helps so many people, it is big work, work to be proud of. And me, I own a craft shop–the scope of my career seems very small in comparison. But maybe small is okay too–daily connection with people, especially children, brings me so much happiness. Sure, the business side of things is really challenging, especially these past few years. Sometimes I wonder if it's worth all the hard work.

But it is. Collaborating with my staff while dreaming up creative projects and craft kits. Imagining whimiscal displays with carefully chosen products. Hearing a crafting child whisper to her mom "this is the best day ever". And even accounting work has it's pleasures, especially when the last statement reconciles!