With the incredibly upsetting happenings of last week, what could I possibly say that is relevant or even

necessary? So many write so well, especially my favorite, Heather Cox Richardson. Her daily Letters from an American have kept me sane these last four years. I will continue to rely on her going forward–she gives important historical context to current events, telling it like it is with quiet intelligence.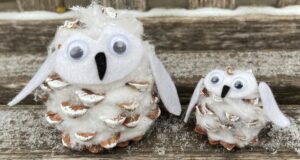 Winter Crafts Menu for details. After a busy December, the shop has been super quiet. This has allowed me to prepare the Winter Crafts and generally catch my breath. As always, I find making things with my hands calming. We have a number of new craft kits and craft packs, to help provide fun and solace for you and your family. Check out our
With no "school" on MLK and Presidents' Day, think  about ordering craft kits for your child to help pass the time. We offer curbside pickup and in-person shopping. Our open hours are 10 am to 2 pm Monday through Saturday. If these hours don't work for you, let us know–we can set a different time for pick up, or even deliver to you if you live fairly close by. We are still offering very limited crafting in the shop–only one small group at a time as specified by the governor. Reservations are required.
Simply Jane painting studio has been sharing our space since November. Jane has given me notice that she will be leaving at the end of January. We wish her all the best. Once the annex space is empty, we will be displaying and selling furniture and display pieces–think of it as an indoor tag sale. After almost 10 years in business, we have accumulated lots of "stuff" and it's time to lighten the load. Look for an announcement in early February once it is all set up and ready to shop.
I had such a great time at our Winter Break Craft Camp–seeing the kids without masks on Zoom was wonderful and reminded me of what I have been missing. And the kids had fun too! So I have planned another three day camp for the Minneapolis Spring Break in April. Details are in our Winter Crafts Menu.
Looking ahead to summer, I have begun work on our Summer Craft Camps too. These will be designed as virtual camps that can easily be changed to in-person camps if it is deemed safe. Our Summer Craft Camp Menu will be set by February–I will send it via email as soon as it is ready. 

Although it's hard to feel optimistic after this last year, I am cautiously hopeful. My goal has always been for Heartfelt to hang on (with your help) until things improve. And I'm still very much committed to staying healthy and safe. I hope the same for you and your family.