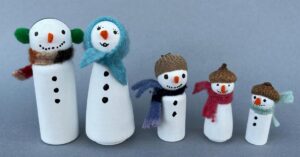 So here we are, six weeks out from Christmas. I have never been a fan of rushing holidays; seeing Halloween and/or Christmas products in stores in July and Back to School promotions the day after school ends for the summer just feels wrong to me. As a business person, it may seem silly to hold off presenting seasonal holiday items but I do, leaving that to early bird big box emporiums.
And so, this week we are creating our holiday displays and featuring our new crafts for this festive season. Here is our Holiday Craft Menu. You will find fresh new projects and old favorites too.
New this year, we are promoting Crafts for Adults as a way to relax and reduce stress. Indeed, some of my fondest memories are of sewing and felting with friends when my daughter was a girl, in community with other moms. Call to make a reservation to create solo or with friends and family. Arguably, we grown-ups need the healing of handwork at least as much or more than our children.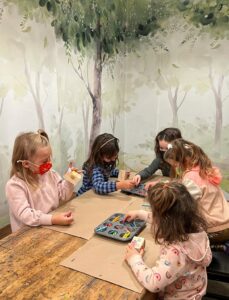 We have a new room for our Birthday Parties. I have rented the extra space from my landlord so parties can be more private in this time of Covid. Our parties are a little smaller, up to seven children total, and masks are required until further notice. Interestingly, the smaller parties have a delightful quality that is sometimes missing from larger gatherings. The birthday child is not as over-excited and is able to be social with each of their friends, in a classic example of quality over quantity.
We have expanded our toy selection–our annex space where our birthday table was is now a little toy shop, just in time for gift shopping! This has been challenging in the face of ongoing supply issues and tight cash flow but I think we have pulled together a nicely curated selection, with products from many new suppliers, as well as our core of must-haves. This is a bit of a gamble in this time of Covid; visitors are glad we are still here and sales are starting to rebound, although not yet up to previous levels. So come shop from us, make with us–and please tell your friends and family about this cute little shop you know in Linden Hills!